A keloid is a growth of extra scar tissue where the skin has healed after an injury. If you suffered from acne problems as a teenager or had a serious surgery, untreated burns or chickenpox, there is a chance that you ended up with keloid scars. The problem is more common in people ages 10 to 20 and often runs in families.
A keloid scar is one in which there is overgrowth of thick fibrous tissue, which develops over the wound to protect and heal it. This excessive scar tissue generally forms after the injury has healed and outspreads the initial wound. Normally, it doesn't regress spontaneously and reappears if removed surgically. Keloid scars are not painful or harmful to your health, but they can be unattractive or even embarrassing.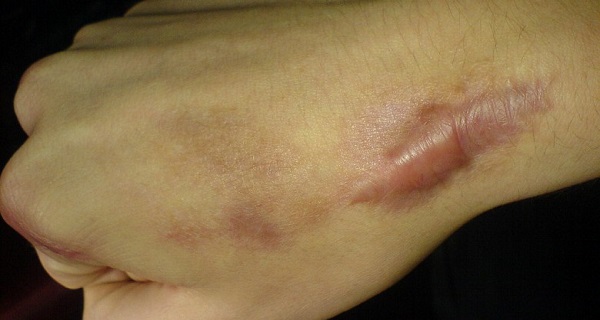 Hypertrophic, unlike keloid scars, stay within the borders of the original wound. Plus, they are redder in color than keloid scars.
Symptoms of keloid scars include:
a flesh-colored, pink or red area
a lumpy or ridged area of skin
an area that continues to grow larger with scar tissue over time
an itchy patch of skin.
Keloid scarring can be the result of most skin injury types like:
acne scars
burns
chickenpox scars
ear piercing
scratches
surgical cuts
vaccination sites.
These scars commonly appear on your nose, ear, chest, arm or any other place where your skin suffered trauma. Possible treatments of keloids include laser therapy or steroid injection, both of which are quite costly procedures. Another option to reduce scarring is application of keloidal cream (Mederma, for instance), although this does not always give the desired results. But, if you want to address this issue the natural way, we offer 11 all-natural alternatives to help you remove keloid scars at home.